12-28-2017, 05:24 AM (This post was last modified: 08-11-2018, 10:46 PM by KnifeGrinders.)
It's a commonplace that edge sharpness worsens from the moment we've deburred it and measured, through the first day, even if the knife doesn't cut anything.
BESS sharpness score of a freshly sharpened edge is always better than that 1-2 hours later, and the worst is in 12-17 hours after sharpening.
It is practically important to know what drop in sharpness comes from oxidation (i.e. increase in BESS reading).
Knowing that, a BESS score worse than what we could explain by oxidation will indicate either presence of a microscopic wire/foil burr that folds to one side of the edge with time, or the edge apex overheating & softening that leads to the apex bending to one side, or both.
I've done a series of tests on stainless steel to quantify this change in sharpness, and found that a completely deburred edge scores by 5 BESS more in 1-2 hours, and by 10 BESS more in 10 hours.
Recently I came across a Japanese study 
Analysis of oxide layers on stainless steel
that has data on chrome-oxide layer/film thickness. This film thickness is temperature-dependent, and also acidity-dependent. I double-checked the common buffing compounds data sheets, their pH is neutral; next week am getting litmus paper to check actual pH of the mix of the honing compound and swarf on my paper wheels.
Initially the chrome-oxide film thickness is 3-5 nm, but if mechanically polished and heated to 400 C degrees, the film thickness reaches 20 nm - isn't that exactly what is happening to the very edge when we deburr it on a felt or paper wheel at high RPM?
This is in line with the BESS score worsening by 5-10 BESS that I observed - BESS edge sharpness testers show edge apex radius in nm, and that extra 5-10 BESS is the 5-10 nm thick chrome-oxide film added to the radius.
https://link.springer.com/article/10.1007/BF01045379
Based on my tests, and understanding of the data in that study, I concluded to myself that any worsening of the BESS score up to 20 BESS can be attributed to oxidation; but worse than that  shall be attributed to the wire burr or edge apex folding.
I've re-read what Mike writes about the wire burr in the KN100 Operating Manual, pages 39-42 at 
http://www.edgeonup.com/Library.html
First, Mike noted that it takes 6-8 hours for a straightened wire burr to regain its folded position due to metal memory;
Second, complete removal of a wire burr improves BESS reading by 50-60 BESS; and
Third, a stropped edge left for a couple of hours will score 10-15 more - I now attribute this to oxidation chiefly.
To better understand what I've read, I did another series of tests on an edge that had a near continuous wire burr seen under a microscope - if you strain your eyes really hard, you can see that tiny burr along the edge apex on the photo below.
In 1-2 hours the BESS score worsens by 5-30;
In 10-12 hours by 45-50 BESS.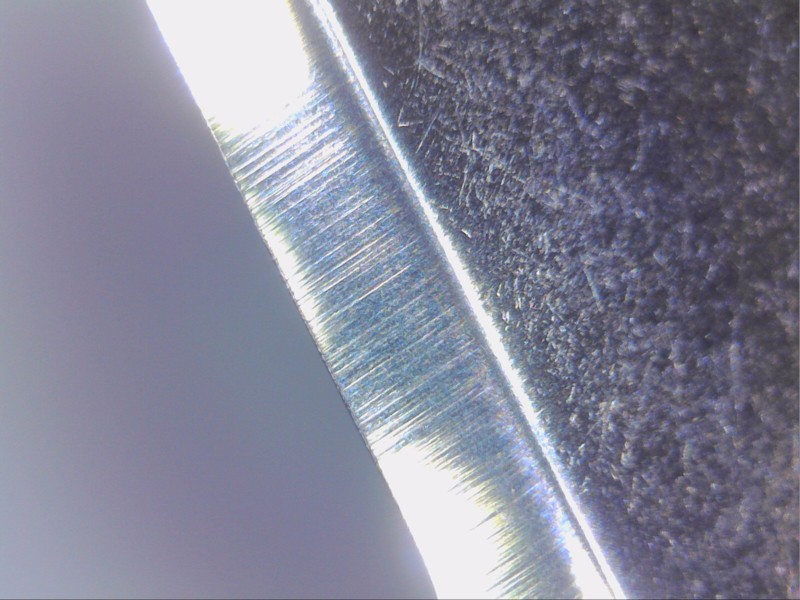 Practical use of those findings is in detecting a microscopic burr by simply letting a sharpened blade lie idle for 10 hours, and then taking a repeated BESS reading - a score increase by more than 20 BESS is indicative of the burr.
If such a knife is put to use, its cutting performance will quickly drop due to the burr and apex rolling.
To fix this, I take the blade to a paper wheel with a 0.5 micron abrasive and do just one light and quick pass each side at a higher angle (e.g. an edge of 15 dps I hone at 15.4 degrees). After that, the BESS score immediately improves by at least 30-40 BESS, then in 10 hours worsens by 10-15 BESS (oxidation), but then stays unchanged even when checked days later.
http://knifeGrinders.com.au